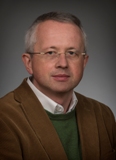 Dr. Predrag Jureković

Institution:
Landesverteidigungsakademie (LVAk) / Institut für Friedenssicherung und Konfliktmanagement (IFK)
Geburtsdatum:
1969
---
Beiträge als Autor:
---
Herausgegebene Publikationen (im Rahmen des BMLVS):
Lebenslauf
Dr. Predrag JUREKOVIĆ, geboren 1969 in Nova Gradiska (Kroatien), verheiratet, 3 Kinder.
Studium der Politikwissenschaft und Geschichte an der Universität Wien.
seit 1997 ständiger Mitarbeiter der Österreichischen Militärischen Zeitschrift.
Oktober 1997 - Mai 2003 Wissenschaftlicher Mitarbeiter im Militärwissenschaftlichen Büro des BM für Landesverteidigung bzw. Büros für Sicherheitspolitik (2001 umbenannt).
seit Juni 2003 Leiter des Referats Konfliktanalyse im Institut für Friedenssicherung und Konfliktmanagement der Landesverteidigungsakademie.
Forschungsschwerpunkte:
Konfliktverlauf, Konflikttransformation und Stabilisationsprozess in Südosteuropa.
Militärisches und ziwiles Krisenmanagement am "westlichen Balkan".
Südosteuropa als Teil des EU-Integrationsprozesses.
Österreichischer Co-Chair der Study Group "Regional Stability in South East Europe" des PfP Consortium of Defense Academies and Security Studies Institutes.
Mitwirkung an Forschungsprojekten zur Anwendung qualitativer und quantitativer Methoden zur Konfliktanalyse, insbesondere Early Warning, spieltheorethische Modellierungen.